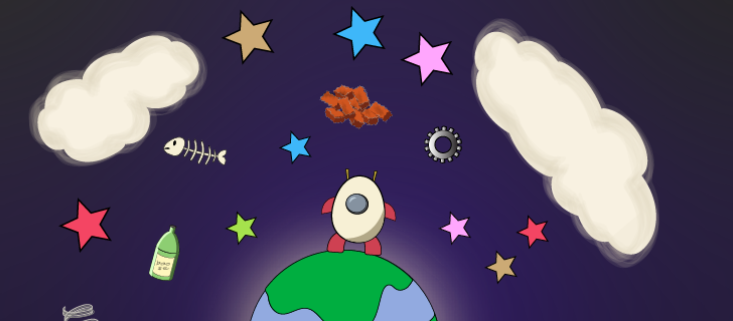 Space Needs Space!
A downloadable game for Windows, macOS, and Linux
Space is full! What can I do? Take control of a robot who is on a quest to declutter the universe.
Fire the robot's 'grabber' through several rotating layers of junk items and stars with precise timing. Collect the junk items whilst avoiding the stars. Grabbing stars will result in damage to the robot - acquire too much damage and it's game-over. As you progress to different planets, the swirling layers of stars and junk become more complex.
This is a prototype build of a game I am currently (as of July 2022) developing further. This version was originally made for the 'GamesPlus' game jam (the theme was 'space'). It contains a tutorial plus three levels to complete in single-player mode.
All art assets, coding and sound/music are of my own making.
Note: on 'Try Again' screen, you need to mouse click on character image to retry.
Further note: because of the way I coded this, using physics joints (which was an odd idea - but fine for a game jam :-) the movement of the junk and stars is quite erratic by the final level, due the amount of items. I plan to update this page with a demo of the new and expanded version very soon (in which this is not an issue).
Install instructions
Download zip. Extract all and double click the .exe file within.